July 3rd
Congress President Sonia Gandhi in a letter to Prime Minister Narendra Modi urged the government to extend reservation for OBC candidates in the all-India quota for medical and dental seats to state/UT medical institutions. She said reservation for OBC candidates under the all-India quota is currently restricted to the Central institutions and must be extended.
She added that the denial of reservations to OBCs in state medical institutions under the all-India quota violates the objective of the 93rd Constitutional Amendment. The Amendment gives special provisions for any socially and educationally backward class, caste or tribe to gain admission to educational institutions. Denying this would be a barrier to access to medical education for the deserving OBC candidates.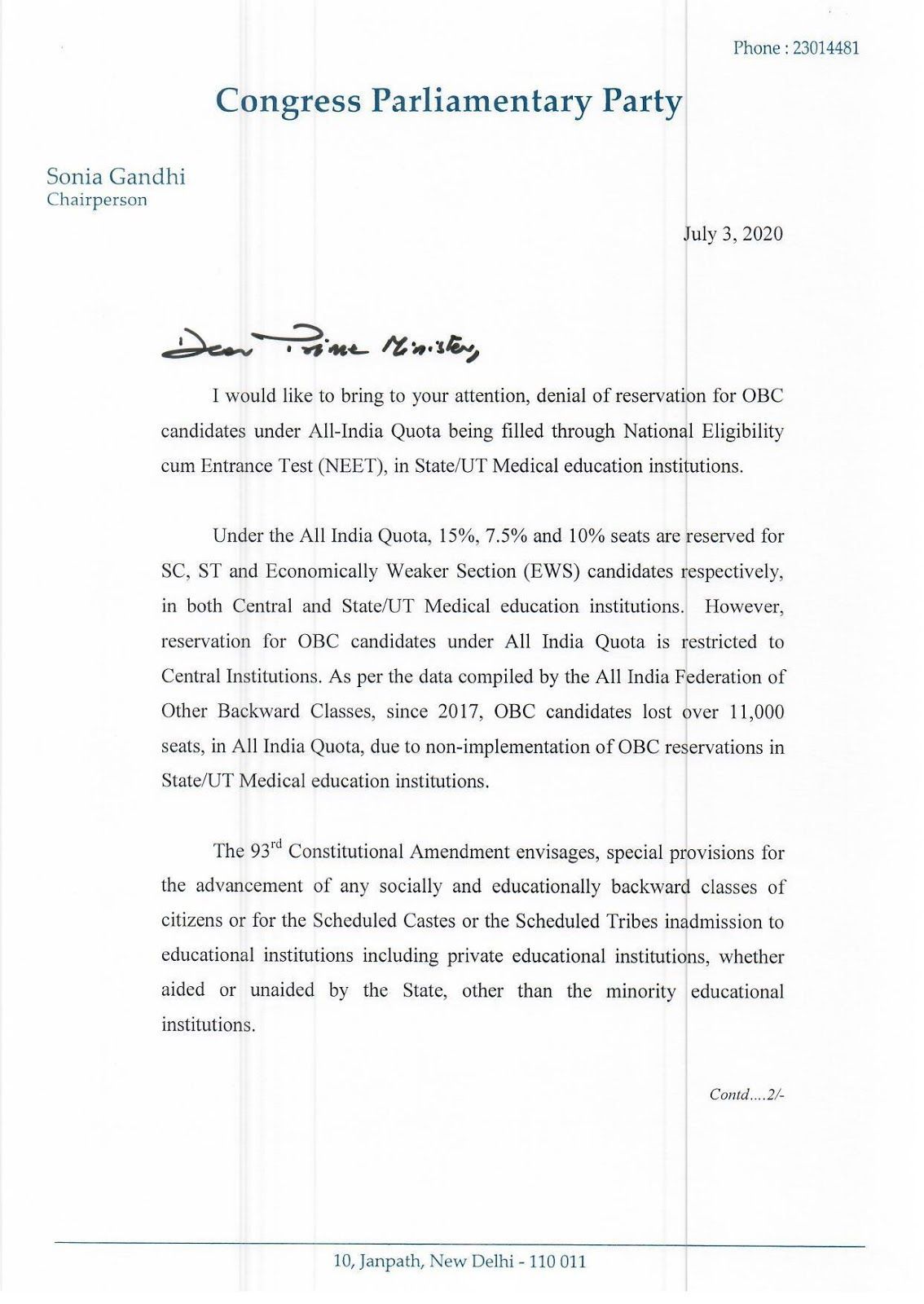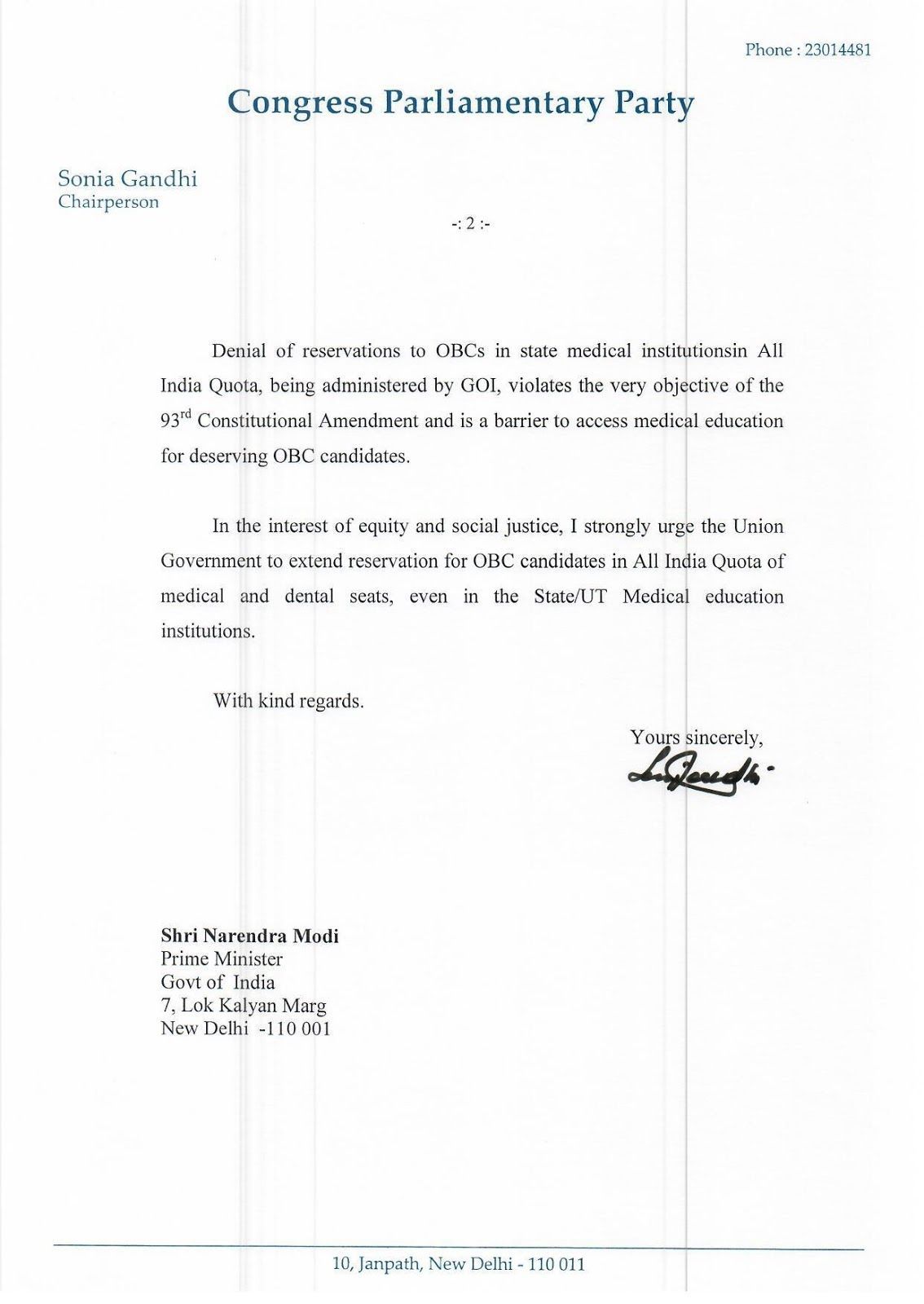 June 22
In a sharp letter to Prime Minister Narendra Modi, Congress President Smt. Sonia Gandhi pushed the Centre to extend the supply of 5 kg of free food grains by three months to each member of "priority households." She wrote that the extension should be applicable to all poor families who have been massively impacted by the coronavirus lockdown, including the lakhs of migrants whose condition made headlines over the past months.
She also said that several states had asked for the same and suggested that temporary ration cards be issued for all households that were excluded from the Public Distribution System.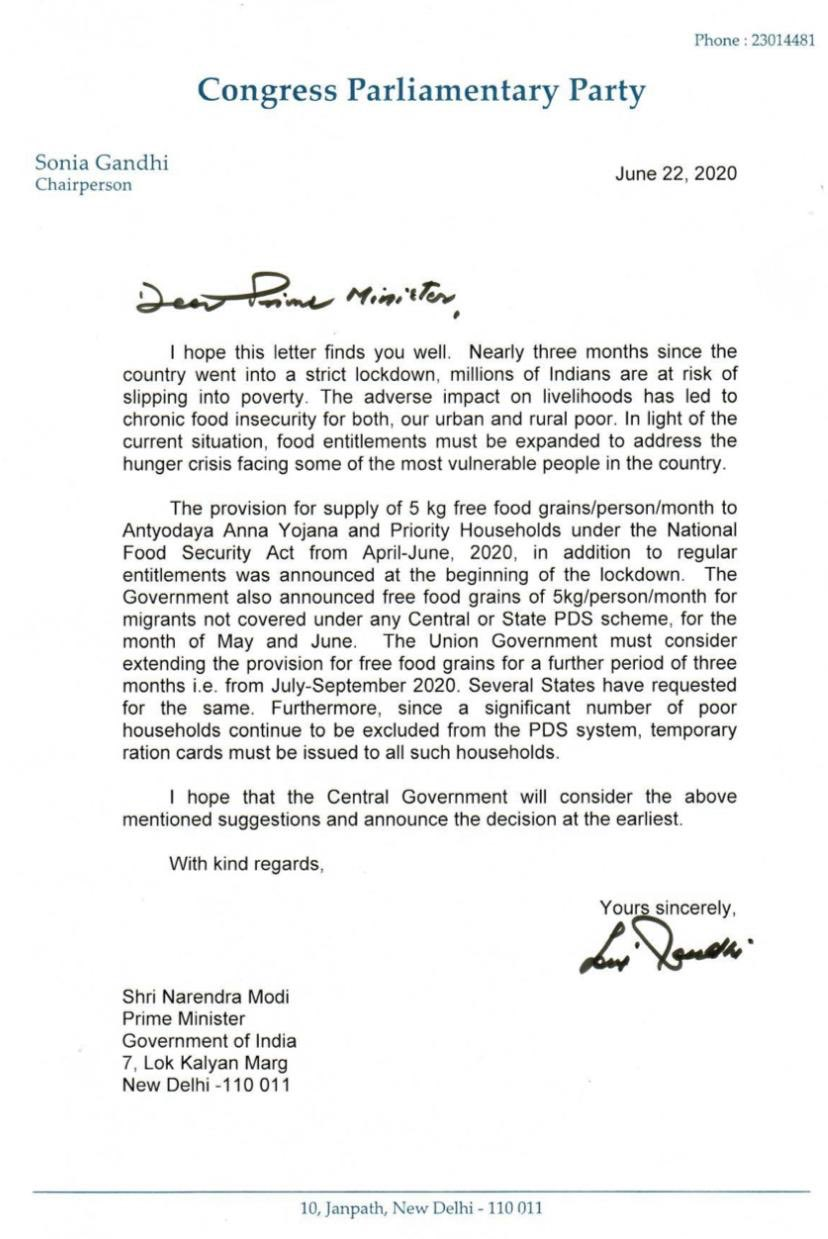 June 16
Congress President Smt. Sonia Gandhi writes to the Prime Minister urging the government to immediately roll back hikes on fuel prices and pass the benefit of low crude oil prices to the citizens. She said she saw "no logic" in such an increase, especially in the time of a pandemic and accused the government of "profiteering off its people" when they are struggling.
She highlights the economic devastation of COVID-19 and writes to PM Modi to slash the fuel prices immediately and questions the government as to why they were increased when the international crude oil prices are at an extreme low.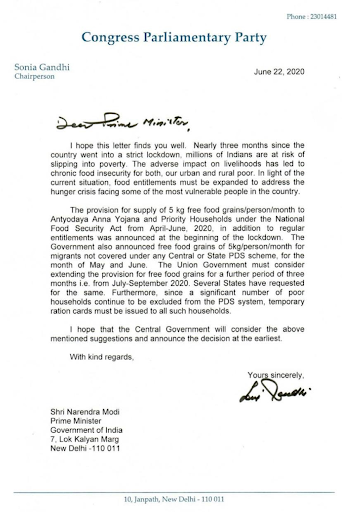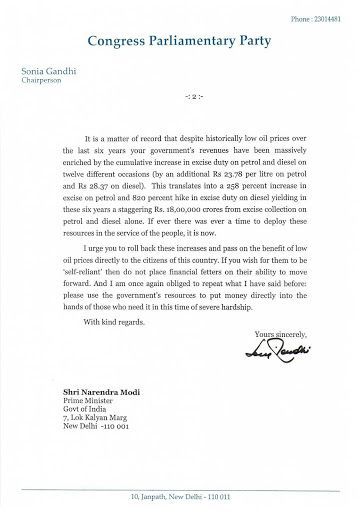 April 25
In a letter to Prime Minister Modi, Congress President Sonia Gandhi implored the government to announce a financial package of Rs 1 lakh crore for the revival of the MSMEs which have been adversely impacted by COVID-19. She said that if ignored, the financial crisis in the sector can have a devastating and expansive ripple effect on the entire country's economy.
Full of suggestions including the Rs 1 lakh crore "MSME Wage Protection" package, her letter urged the government to also include a credit guarantee fund of an equivalent amount and a 24X7 helpline for helping them out of this crisis.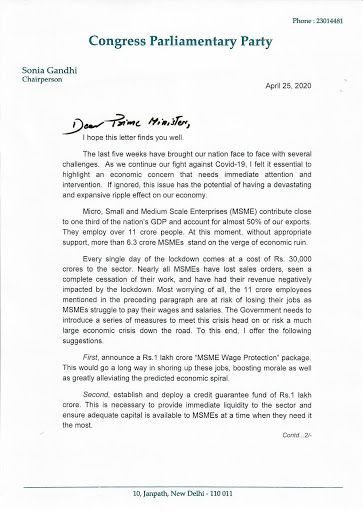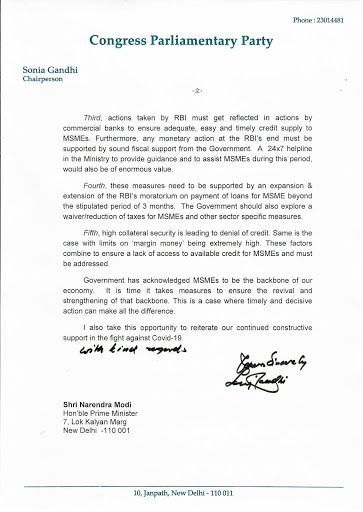 April 13
Congress chief Sonia Gandhi wrote to Prime Minister Modi urging him to extend the provision of providing free food grains to the National Food Security Act (NFSA) beneficiaries for another three months. She wrote that it was extremely tragic that lakhs of people across India are hungry and facing shortage of food because of the countrywide lockdown.
With several suggestions, she requested the prime minister to consider extending the free food grains provision from 5kg/person to 10kg/person and to vulnerable people even if they don't hold ration cards.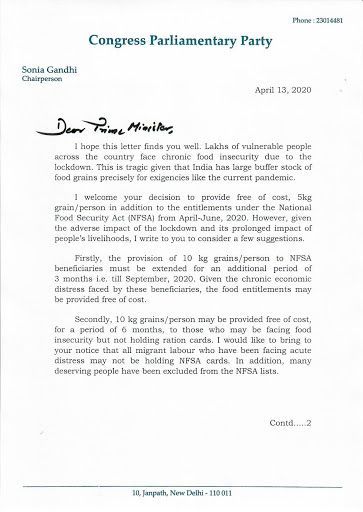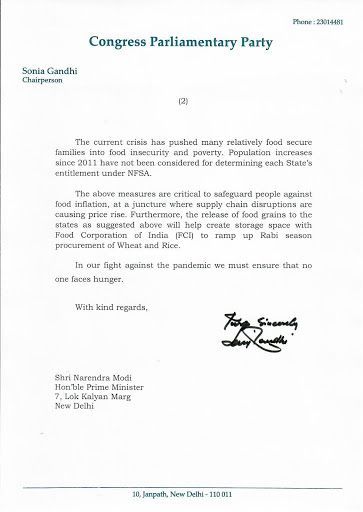 April 7
Congress President and CPP Chairperson Smt. Sonia Gandhi writes to PM Modi suggesting various measures to fight the COVID-19 pandemic. The five suggestions in her letter that include ways to save funds and fight the pandemic are:
Suspend all government and PSU advertisements

Suspend the Central Vista Project

Put all foreign visits on hold

Reduce government expenditure by 30%

Transfer PM-CARES funds to the PMNRF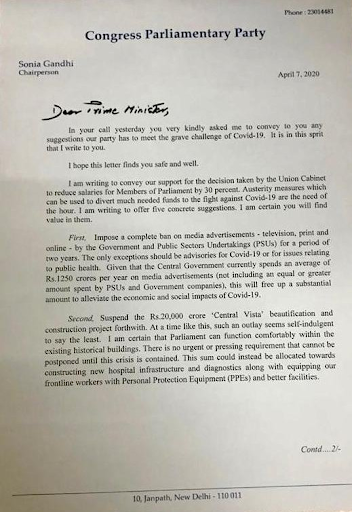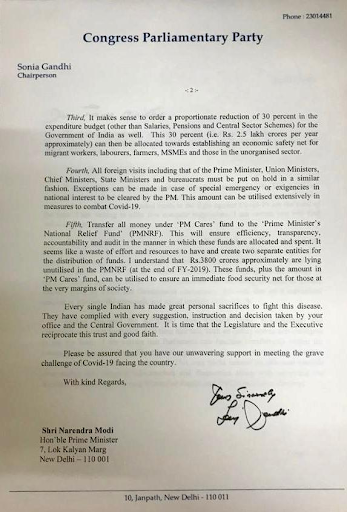 April 1
President Sonia Gandhi wrote to Prime Minister Narendra Modi seeking advance payment of 21 days' wages to MGNREGA workers across India. She urged the government to help them so that they can survive without work during the coronavirus lockdown.
In her letter, Mrs. Gandhi highlighted that a large number of rural poor don't have work and around 8 crore MGNREGA workers don't have an alternative source of income due to the countrywide lockdown, and so, they should be paid money in advance to tide over the current crisis.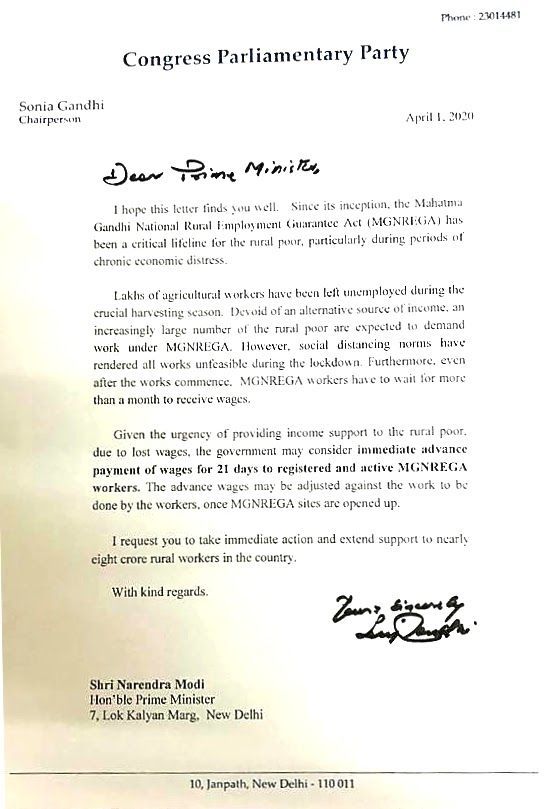 March 27
Observing the migrant crisis in the country, Congress President Sonia Gandhi wrote to Prime Minister Narendra Modi to draw his attention to their plight. Migrant workers are in the middle of the biggest ever reverse migration process due to closed borders forcing them to return to their hometowns on foot.
Smt. Gandhi urged Modi to issue national advisories to make available one time transport services to those walking back to their homes. She also suggested that District Collectors be advised to extend all possible assistance to those who cannot afford to stay in lodges or guest houses.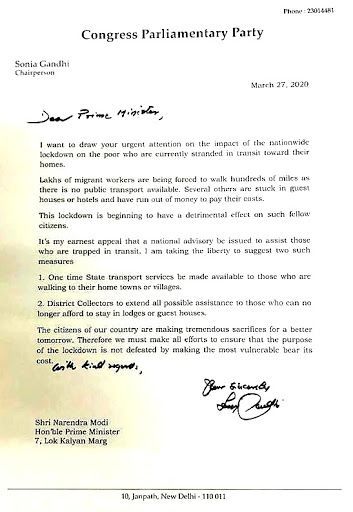 March 26
Congress President & CPP Chairperson Smt. Sonia Gandhi writes a letter to PM Modi with suggestions that the govt should immediately undertake in this lockdown period. While the opposition leader voiced her support to the 21-day lockdown announced in view of the coronavirus outbreak, she urged the government to take account of her eight suggestions.
Mrs. Gandhi, in her letter, stressed on the need to provide doctors, nurses and other healthcare workers with personal protection equipment, including the N-95 mask and hazmat suits and the need to provide aid to vulnerable sections of the society.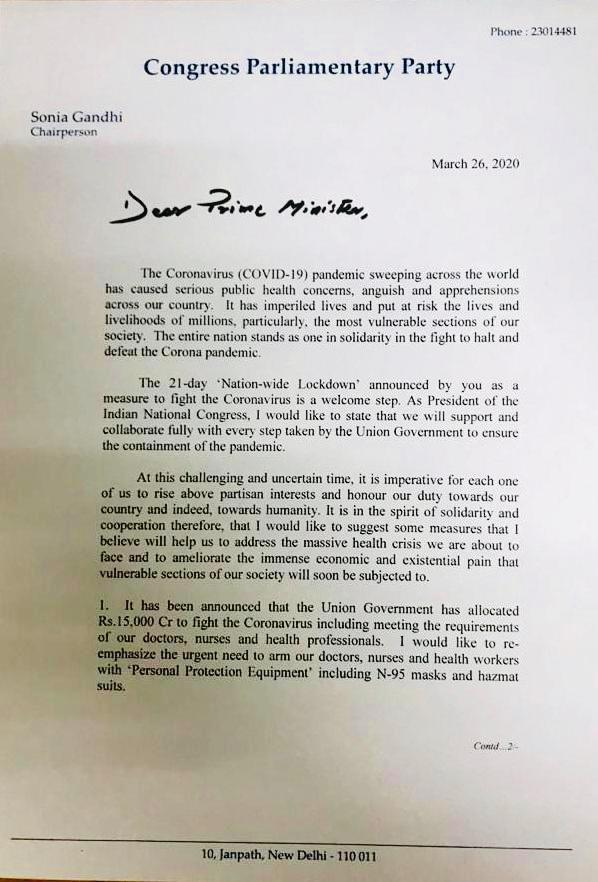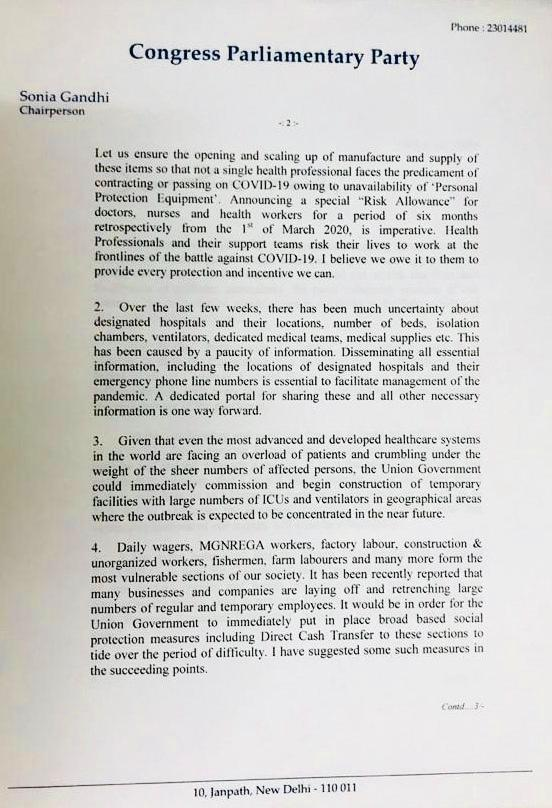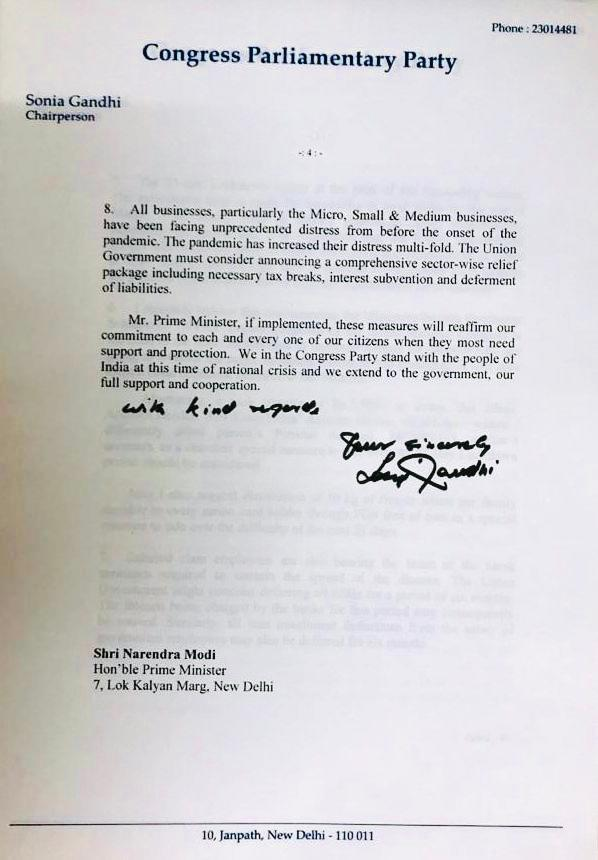 March 23
Congress president Sonia Gandhi urged Prime Minister Narendra Modi to roll out emergency welfare measures, including financial support, to the lakhs of construction workers who are in financial distress due to the outbreak of coronavirus.
In her letter to the Prime Minister, Smt. Gandhi requested him to advise the state building and other construction workers' welfare boards in this regard.